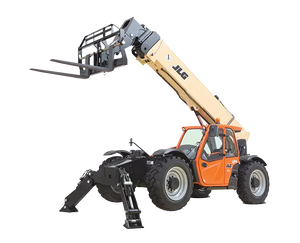 12,000 lbs capacity and 54 to 56' ft Reach.
Model delivered my be different then pictured

Shipping at checkout includes delivery and pickup
Call or text after checkout with your desired delivery time and date
Question? Call or Text anytime 801 875 2903
Call or Text to extend the Rental
Equipment Overview
The 12,000 lb 55 ft telescopic handler is a heavy-duty forklift attached to a telehandler. The telescopic boom can extend horizontally 55 ft, giving operators plenty of reach for positioning, placing, lifting, or unloading heavy materials. Although it's designed for single unit, palletized loads, the forklift attachment can also handle oblong items, such as piping. Capable of handling up to 12,000 lbs, the telescopic forklift is commonly used for large-scale construction or industrial tasks.
- 55 ft boom
- 12,000 lb carrying capacity
- Can easily navigate rough terrain or uneven surfaces
Specifications